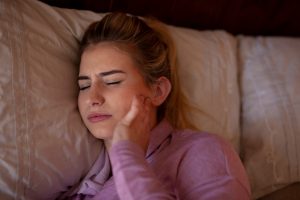 If you are suffering from jaw pain, you might be inclined to visit your general care practitioner. But did you know that a dentist may actually be the most qualified person to help you? Many of them have completed extensive training that enables them to diagnose problems with the jaw joint (the TMJ) and provide TMJ therapy. Let's talk more about why you should choose a dentist for this type of treatment.
Dentists Understand Facial Anatomy
Dentists' knowledge extends far beyond the teeth and gums. They are also familiar with facial anatomy and how issues in and around the mouth can affect overall wellness. Many of them even choose to invest in additional training that helps them understand the intricacies of the TMJ.
TMD Is Often Misdiagnosed
General care practitioners must have a basic knowledge of all the systems of the human body. That is certainly a good thing, but they often have not taken the time to delve into the details of how the TMJ works. It is one of the most complex joints in the human body.
Sadly, TMJ disorder (TMD) is often misdiagnosed. For example, it often causes headaches and body aches. It may be a general physician's first inclination to attribute such symptoms to something other than TMD, even when all relevant signs point toward a problem with the jaw joint. Dentists are generally quite good at recognizing the symptoms of TMD and finding its primary cause.
Dentists Offer Effective TMD Treatment
When you choose a dentist to treat your TMJ in San Ramon, you are entrusting your care to someone who offers a range of effective treatments. Here are a few common ways that they address TMD:
Occlusal adjustments. By making small alterations to the shape of your teeth, a dentist can take pressure off the TMJ and help it to function better.
Occlusal splint. An occlusal splint is a small device that repositions the jaw to hold it in a position where it can relax and experience pain relief.
Trigger point injections. Strategically placed injections of anesthetic can numb sensitive areas in the muscles around your TMJ.
Most patients find that within a few months of beginning to visit a dentist for TMJ pain, their symptoms are mostly gone — they may even be completely pain-free!
Finding the Right Dentist
Of course, not all dentists are equally qualified when it comes to treating TMD. Try to find one who has experience in treating this condition. It is even better if they belong to an organization like the American Academy of Craniofacial Pain, which encourages and helps its members to advance their knowledge of TMD and related conditions.
Are you struggling with persistent jaw pain? A dentist may be the best person to help you find relief!
Meet the Practice
Dr. Rashpal Deol is an experienced dentist who has spent many years helping patients find relief from TMD. He is a member of the American Academy of Craniofacial Pain. Along with Dr. Hema Patel, he provides a broad range of services to the San Ramon community. To learn more about our dentists and how our team may be able to serve you, contact us at 925-735-6190.