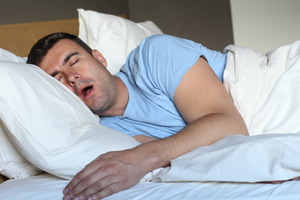 Sleep apnea is a disorder where frequent interruptions in your breathing prevent you from getting quality sleep. Meanwhile, temporomandibular joint disorder, or TMJ disorder, is a problem with your jaw joints that results in chronic pain and other symptoms. These two issues might seem unrelated at a glance, but they can be more closely connected than you might think. Here's the truth behind the relationship between TMJ disorder and sleep apnea.
TMJ Disorder and Sleep Apnea: What's the Connection?
About 43% of people with TMJ disorder also have trouble sleeping, which in many cases can be attributed to sleep apnea. The relationship likely has to do with how the body responds to pauses in your breathing.
In an attempt to open up the airway, your lower jaw will be pushed forward. Since sleep apnea episodes can happen multiple times in a single night (as many as 60 to 100 times per hour in severe cases), your jaw will be constantly moving, thus putting excessive stress and tension on your TMJ.
The two conditions can be linked in other ways as well. For example, a TMJ disorder often occurs when the jaw is misaligned, which throws off the balance of your bite and strains your TMJ. In many cases, a misaligned jaw can also increase the risk of the tongue blocking your airway, resulting in sleep apnea. In other words, TMJ disorder and sleep apnea can sometimes share an underlying cause.
How Can TMJ Disorder and Sleep Apnea Be Treated?
Both TMJ disorder and sleep apnea have the potential to grow more severe when left alone. It's therefore essential to seek treatment as soon as you realize that you might be suffering from either condition.
A TMJ disorder can be treated in a few different ways. In some cases, your dentist might give you an occlusal splint to shift your jaw into its proper alignment so that your TMJ has a chance to rest. It may also be necessary to make slight adjustments to the teeth so that they can properly distribute the forces of your bite, meaning one TMJ isn't exposed to more stress and tension than the other.
When it comes to sleep apnea, CPAP therapy is the most well-known treatment. However, if you find your CPAP machine to be too noisy or uncomfortable, you might prefer oral appliance therapy instead. Just like the occlusal splints used to treat TMJ disorder, sleep apnea oral appliances work by repositioning the jaw; this helps keep your airway open so that breathing isn't cut off during the night.
Sleep apnea and TMJ disorder can hurt your quality of life, but fortunately, both are treatable. Reach out to your dentist today to see what options they have for relieving your pain and helping you get a proper night's rest.
About the Author
Dr. Rashpal Deol started practicing dentistry in India, where he earned a Bachelor of Dental Surgery, a Master of Dental Surgery in Periodontics and Oral Medicine, and a Doctor of Dental Science. Today, he helps San Ramon patients maintain beautiful healthy smiles; he also provides solutions for TMJ disorder and sleep apnea. To schedule a consultation with Dr. Deol at Oak Ridge Dental, visit his website or call (925) 735-6190.