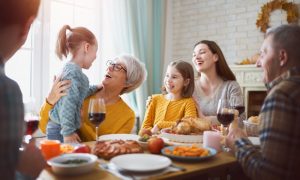 Family, friends, food, shelter, clean water—there are many things people don't think about until Thanksgiving rolls around. This year, consider this often forgotten blessing: your teeth.
Did you know that roughly 120 million people in the US are missing at least one tooth and 36 million Americans have no teeth at all? Those who do can take them for granted or not realize how great having functioning teeth is—until after they lose their teeth. This Thanksgiving, you can be grateful to have your pearly whites. Keep reading to learn why you should and what you can do to keep your smile in good condition.
Why You Should Be Thankful for Your Teeth
When every human being starts out with teeth, you may wonder whether they are even worth acknowledging as a blessing. Here are just two of the benefits that healthy teeth provide for you every day.
Strong Bite
Without your teeth, you would be unable to nourish and feed your body. Although fresh vegetables and fruit can be cooked and mashed or juiced, those who do not have strong teeth often struggle to maintain a healthy, balanced diet. As a result, overall health can suffer. In fact, even those who replace their missing teeth with dentures tend to have a shorter lifespan by about 10 years than those with a full mouth. Needless to say, if you have all or most of your teeth, you have a lot to be thankful for!
Talking
When you have a full set of teeth, you may not think about how much you use them to communicate. Without teeth, you wouldn't be able to speak clearly because many sounds involve them. In addition, those who lack a full set of teeth often feel a significant blow to their confidence, which makes them hesitant to talk at all in fear that others will notice their lost teeth.
How Can You Show Appreciation for Your Teeth
It's not enough to say that you are grateful for your teeth once a year; you must continually take proper care of your smile or you may lose it. Fortunately, maintaining a healthy, beautiful smile involves relatively small actions. First, you must brush and floss your teeth every day, and you should try to avoid having too much sugary foods or drinks. Second, you must go to your dentist's office at least once every six months for a checkup and cleaning. That way, any oral problems can be caught as early as possible—before you lose a tooth entirely.
In the end, if you are lucky enough to have a full smile, take some time every day of the year (especially on Thanksgiving) to appreciate your teeth. Even if you're missing one or more teeth, your smile can be corrected with dental implants; then you can be thankful for your strong set of teeth during future Thanksgivings!
About the Practice
At Oak Ridge Dental, we compassionately serve patients ranging from those who want to preserve their teeth to those who have none at all. Our dentists, Dr. Rashpal Deol and Dr. Hema Patel, have the necessary skills and training to handle the entire implants treatment in-house, but they prefer to prevent tooth loss to begin with. If you would like to schedule an appointment, you may call our San Ramon office at 925-735-6190 or visit our Contact Us page here.