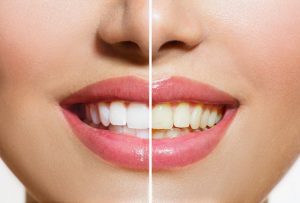 A bright set of teeth can be the difference-maker in your self-confidence, but if you're like 80% of Americans, you may wish that you had a whiter smile. Because of this increasing need, you may have noticed the variety of products that you can now find at your local drugstore. However, these products may not be as safe and effective as they seem. Thankfully, your dentist offers professional teeth whitening in San Ramon to give you the smile of your dreams. Keep reading to learn more about this treatment and how you can benefit from it.
Professional Teeth Whitening Options
Your cosmetic dentist provides two different options for teeth whitening:
In-Office
For the in-office option, you'll come into the dental office, where your dentist will apply professional grade whitening gel to your teeth. This is activated using a special heating lamp, which not only makes the treatment faster, but it also makes it more effective. When the treatment is finished, you can leave the office with a smile that is up to 8 shades brighter.
At-Home
For patients who want to receive the benefits of professional whitening in the comfort of their own home, there is an at-home option. Your dentist will give you a custom-made whitening kit, which has professional-grade gel and personalized whitening trays. You'll simply wear your trays as directed, typically 30 minutes a day for 2 weeks, before noticing beautiful results.
When is the Best Time to Whiten My Teeth?
You can benefit from teeth whitening during any time of the year, but there are some instances that are better than others for this treatment. In-office teeth whitening can deliver patients dramatic results in less than an hour, which makes this treatment perfect before major events, interviews, meetings, social gatherings, and more. Additionally, many patients find that whitening their teeth during the warmer months is beneficial because their summer tan or bright clothes can make their teeth look even brighter!
How Can I Keep My Teeth White?
Whitening aftercare is easy, but it's important to understand that the whitening effects won't last forever. Simply brush and floss your teeth as you would normally, but you should also avoid foods rich in color, wine, coffee, smoking, or tobacco use. Additionally, you can go to your dentist in San Ramon for touch up treatments. These quick and easy appointments will keep your teeth whiter for a longer period of time by touching up stains in your smile.
Does it sound like you could benefit from either of the professional teeth whitening options? Contact your dentist to get started on a confident and dazzling smile.
Meet the Dentist
Dr. Rashpal Deol has over 30 years of experience in dentistry, and he loves building relationships to provide more personalized care. He takes pride in offering professional teeth whitening to help boost patients' confidence and appearance. He currently practices at Oak Ridge Dental, and he can be reached through his website or by phone at (925) 735-6190 for any questions.