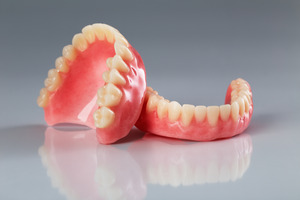 Once you get dentures to re-complete your smile, how long can you expect them to last? The answer is different for every patient, although some individuals are able to keep their dentures for around 10 years. If you want to maximize the lifespan of your dental prosthesis, then you need to be able to take proper care of it. Below are 5 tips you can follow to make sure your dentures stay in good shape for as long as possible.
1. Clean Your Dentures Every Day
You probably already know how important it is to brush your teeth on a daily basis, so it should be no surprise that your dentures also need to be cleaned regularly. However, you shouldn't use toothpaste to do the job, as it's too abrasive and could easily end up damaging your prosthesis. Instead, you can brush your dentures with a soft-bristled toothbrush and a specialized denture cleanser.
2. Rinse Your Dentures Whenever You're Done Eating
Every time you finish a meal, you should head over to the nearest available sink and rinse off your dentures. This is to get rid of food particles and bacteria before they can lead to any major problems. Furthermore, rinsing your dentures regularly can help you avoid staining.
3. Be Gentle with Your Dentures
Even a denture made out of the highest-quality material can still break. As such, you should always treat your dentures with care whenever it's time to take them out of your mouth. It may help to put a towel underneath your head so that your dentures have a soft place to land if you happen to drop them.
4. Do Not Expose Your Dentures to Hot Water
When rinsing your dentures, you need to pay attention to the temperature of the water. Exposing your prosthesis to high temperatures can cause it to warp, meaning it will no longer fit correctly. As such, the water used to rinse your dentures should be warm but not hot.
5. Take Your Dentures Out at Night
After you get used to wearing dentures, you may be tempted to keep them in your mouth at all times. However, constantly wearing your prosthesis can irritate your gums, accelerate bone loss, and increase your risk for pneumonia. It's therefore better for your oral and overall health to take your dentures out at night just before you go to bed. You don't want them to dry out while you're asleep, so leave them soaking in a cleaning solution.
The care you give your dentures can make a significant difference in determining how long you will be able to keep them before they have to be replaced. Feel free to ask your dentist for additional tips on helping your dentures last.
About the Author
Dr. Rashpal Deol first started his dental career in India. Today, he is helping patients in San Ramon protect and improve their smiles, and he is a member of various dental organizations like the California Dental Association. He can offer customized full and partial dentures that replace multiple teeth at once. To schedule a consultation with Dr. Deol at Oak Ridge Dental, visit his website or call (925) 735-6190.