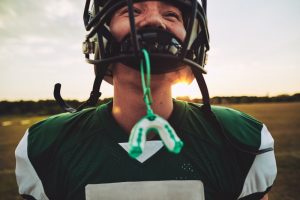 Your son or daughter's smile is easily the most important set of teeth in your life. As a parent, you probably do all you can to keep them healthy and flashing their pearly whites. Brushing and flossing Is one way of preventing dental issues, but proper protection during sports can also save their smile from serious damage or injury. With back-to-school sports starting up, it's time to get everything ready for the next season. Read to learn why it's important for your child to wear a mouthguard as well as some of the sports that have higher risk of a dental emergency.
Why Should Your Child Wear a Mouthguard?
Studies show that sports account for 36% of all unintentional injuries in children and teens. Of these sports wounds, 10% to 20% are maxillofacial injuries according to the American Dental Association. Without wearing a mouthguard, your child is 60 times more likely to be affected by damage to their teeth. These issues are often emergencies that require immediate care. Plus, mouthguards help protect the jaw, and it reduces the amount of concussion your child could experience during a physical hit or blow to the face.
What Sports Should My Child Wear a Mouthguard For?
The American Dental Association recommends that your child wears custom-made mouthguards provided from a dentist for the most effective protection. Your son or daughter should make sure to wear a mouthguard for the following sports:
Basketball
Acrobats
Boxing
Field hockey
Football
Gymnastics
Ice hockey
Lacrosse
Rugby
Martial arts
Skateboarding
Soccer
More
As you can see, many of these sports aren't traditionally physical. However, your kid's smile is still at risk of damage. When in doubt, you can always ask your dentist if your child plays a sport that isn't on this list – they will always be happy to speak with you about the right equipment for your little one.
What Mouthguard Should You Get?
When it comes to buying a mouthguard, there's a big difference between the options your dentist offers, and the ones found in a store. Sportsguards made by your dentist are completely custom-made, making them not only more comfortable for your child, but also even more effective. On the other hand, store-bought mouthguards come in one-size-fits all solutions, plus they will only last for one season. While a mouthguard from the dentist may cost more initially, it's durability and protection can actually save you money in the long run.
Is your son or daughter ready to go for their upcoming season of sports? Now that you know when a mouthguard is recommended, you can ensure that their smile stays healthy and intact even when they're on the court or field!
Meet the Dentists
At Oak Ridge Dental, Dr. Rashpal Deol and Dr. Hema Patel combine their extensive training and experience to offer a wide range of gentle and effective services for children in San Ramon. They create personalized mouthguards that are designed with your little one in mind. For any questions, they can be reached through their website or by phone at (925) 735-6190.