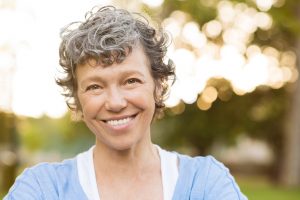 What would it feel like to smile with confidence again? What if you could order your favorite meal at a restaurant and not worry about whether or not you can chew it properly? These are the daily considerations you have to make when your tooth is compromised or missing. Many daily activities that most of us take for granted become difficult, and this takes a toll on your nutrition and your confidence. The good news is that your San Ramon dentist can help by restoring your smile with dental implants.
How a Missing Tooth Affects Your Oral Health
While you may be focused on your self-esteem, you may not even realize that your missing tooth is also affecting your oral health. When you've lost a root, your bone no longer has anything to support and it will begin to deteriorate, which eliminates support for your remaining teeth. Without a replacement, your healthy teeth will begin to shift into the open space left by your missing tooth. If you lose a tooth, it's a good idea to replace it as soon as you can in order to avoid more tooth loss.
How Dental Implants Restore Your Tooth
Dental implants in San Ramon utilize a titanium post that is surgically placed into your bone to restore your root. Over a healing period of 3-5 months, the post will integrate with your bone because it's biocompatible and this creates a firm foundation for your new tooth.
A high quality porcelain crown restores your tooth and returns all the function and aesthetics you had with your natural tooth. This means that you'll be talking, eating chewing, and smiling with confidence again. You'll also be able to brush and floss with ease, making your implant very easy to care for. In fact, with regular dental checkups and excellent home care, your implant has the potential to last for a lifetime, offering you great longevity.
Will Dental Implants Work For Me?
Dr. Rashpal Deol can not only help determine if dental implants will work for your needs, he can also complete your treatment at his San Ramon office from start to finish, including the surgical implant placement procedure. It's a great comfort for our patients to know that they'll be working with the doctor they know and trust throughout their entire procedure.
Dr. Deol will determine if you have enough healthy bone structure present to support the implant during an examination and with the help of a CT scan. With these tools and his expertise, Dr. Deol can have a high degree of predictability on the success of the implant procedure. He'll also ensure that you're in good overall health. If you're missing multiple teeth, Dr. Deol can discuss using implant supported prosthetics with you.
If you'd like to learn more about restoring your smile with dental implants, contact your dentist in San Ramon today to schedule your consultation.