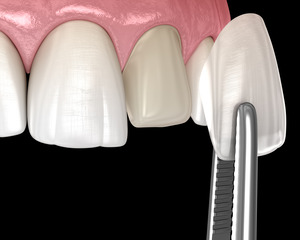 Veneers let you dramatically change your smile for the better by covering cracks, stains, and other imperfections simultaneously. But did you realize that when you commit to getting veneers, your teeth need to be prepared first? Specifically, a small bit of enamel needs to be taken off each tooth receiving a veneer. Your dentist is here to explain why this step is necessary as well as how much enamel needs to be removed.
What is the Process of Getting Veneers?
When you choose to get veneers, you'll need to schedule at least two appointments. During your first visit, the requisite amount of enamel will be filed away from each tooth involved with the treatment. Your dentist will then take an impression of your smile in its current state. A separate dental lab will be able to use this impression to make veneers that are uniquely designed for your grin.
The second appointment takes place once the veneers are complete and have been sent back to the dental practice. Your dentist will confirm that you're happy with the fit and appearance of your veneers before cementing them to your teeth.
Why is Removing Enamel a Necessary Step?
There are a couple of reasons why a bit of enamel needs to be removed before veneer placement. First of all, it helps ensure that your veneers have a natural appearance; if they were attached right away, the teeth might appear too bulky, which can draw the wrong kind of attention. Furthermore, it's easier for a veneer to stay attached to your tooth if a bit of enamel is taken away first.
How Much Enamel Will Need to Be Removed Before Veneers Can Be Placed?
The goal is to make enough room for the veneer while letting you keep as much of the actual tooth as possible. As such, only a very small amount of enamel will be taken off – just enough for the treatment to be carried out. Generally speaking, you can expect half a millimeter of enamel to be removed.
No matter how much – or how little – enamel is filed away, it's important to remember that it will not regenerate over time. In other words, once your teeth have been prepared, they will stay in that state for the rest of your life. You should therefore plan on always keeping the teeth in question covered with veneers (or other dental restorations).
Veneers can help you achieve the smile of your dreams. Before you move forward with the procedure, talk to your dentist to confirm what the process involves and what preparations will need to be made.
About the Author
Dr. Rashpal Deol originally practiced dentistry in India before moving to the United States. He currently belongs to the California Dental Association, the American Dental Association, and other professional organizations. At Oak Ridge Dental in San Ramon, he can offer various forms of cosmetic dentistry, including personalized veneers. To schedule a consultation with Dr. Deol, visit his website or call (925) 735-6190.