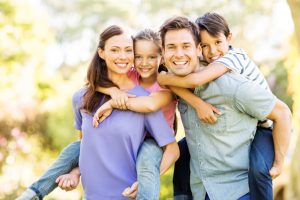 Isn't it great when you can get all the services you need in one convenient location? You can with your dental care as well, Just visit Oak Ridge Dental and your family dentist in San Ramon,
Dr. Rashpal Deol. He provides all the preventive, restorative and cosmetic dental treatments you need–whatever your age. The warm, welcoming atmosphere, combined with Dr. Deol's years of experience and expertise, make Oak Ridge Dental your family's ideal dental practice.
Put Kids First
Parents put their kids first and so does your children's dentist in San Ramon. Dr. Deol likes to see children by the age of 2 for what he calls a "happy visit." It's really a get-acquainted visit so your little one gets used to what a dentist's office looks and sounds like. At Oak Ridge Dental, the team delivers a "real" check-up for kids ages three and up. This includes checking for decay and gum issues, counting teeth and looking at their development.
Dr. Deol offers parents and kids plastic sealants, biocompatible liquids which, when applied to tooth surfaces, harden to a clear finish and protect deeply grooved surfaces from decay. He also recommends fluoride treatments to combat decay. Adults benefit from both these preventive treatments, too.
Other Preventive Services
Adults should come to Oak Ridge Dental semi-annually for an oral examination, digital X-rays (including sophisticated Panorex) as needed and hygienic cleanings. In an oral exam, Dr. Deol checks for:
Dental decay (using visual inspection and intraoral cameras)
Gum pocket depth and other indicators of gum disease
Oral cancer, a prevalent and frequently deadly illness afflicting tens of thousands of American adults
Condition of crowns, fillings and other restorations
Bite and tooth alignment
Tooth wear, tooth grinding (bruxism) and TMJ dysfunction
Dr. Deol recommends customized snore guards for people with the common sleep disorder called sleep apnea.
Restorative Services
Depending on his findings, Dr. Deol provides several services as part of his comprehensive treatment plan. As an expert in CAD-CAM (Computer-aided Design/Computer-aided Manufacturing) technology, Dr. Deol delivers restorations that are durable, beautiful and sparing of natural tooth structure.
His restorative and replacement services include:
Tooth-colored fillings for seamless cavity repair
Porcelain crowns to protect teeth with extensive decay or injury
Root canal therapy to heal tooth abscesses
Fixed bridgework to span smile gaps
Partial and full dentures to replace missing teeth
Dental implants, today's gold standard in tooth replacement
Inlays and onlays, partial crowns to repair large areas of decay or fracture
Cosmetic Services
Your smile affects you feel about yourself and how other perceive you. Dr. Deol and his team want your smile at its brightest best. So, they offer:
Professional teeth whitening
Porcelain veneers to cover chips, cracks and deep stains
Composite resin bonding to fill small gaps and defects
Complete smile makeovers, combining several treatments for one great look
Looking for the Best Family Dentist?
Find him in San Ramon. Contact Oak Ridge Dental for a convenient appointment time today.