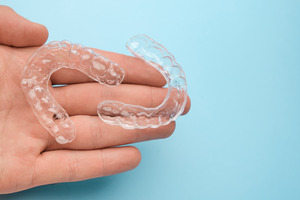 People who want to straighten their smiles in a discreet way can often benefit from clear aligners. While these appliances are traditionally provided by dentists and orthodontists, there are some companies that offer aligners sent through the mail. On the surface, this can seem like a very convenient option. But make no mistake – there are a number of risks associated with mail-order aligners. Here are 3 problems you need to be aware of.
1. There is No Direct Supervision
When you get your aligners from a dentist, you can typically expect to have an appointment every few weeks. These visits are essential for making sure that your teeth are moving correctly and at the predicted rate. If there are any unexpected developments, adjustments can be made to your treatment plan.
But with mail-order aligners, there is no direct oversight. Any problems that occur are likely to go undetected and untreated. In the long term, this can lead to severe issues with your teeth as well as your bite. In short, it's simply safer to have a dental expert keep an eye on the process.
2. There is No Comprehensive Examination Before the Process Begins
How can you be sure that clear aligners are right for you? If you choose mail-order aligners, the screening process will likely involve a remote dentist taking a look at the impression you send in. This gives them the chance to check for severe alignment issues that could potentially disqualify you from getting clear aligners.
However, an impression alone isn't enough for detecting gum disease and certain other oral health problems that might cause complications during your orthodontic treatment. The only reliable way to make sure such issues are caught and properly addressed before the process begins is to see a dentist in person so that they can perform a complete examination of your mouth.
3. Mail-Order Aligners Could Ultimately Cost You More If Problems Occur
Mail-order aligners are often marketed as a more affordable alternative to traditional orthodontics. But while the initial price might be lower, it doesn't factor in any additional treatments you might have to pay for if problems occur. The lack of supervision or a comprehensive examination can easily lead to damaged teeth or gums, which are often costly to fix.
With dentist-provided clear aligners, there's a better chance of problems being caught before irreversible harm is done, which can help you avoid the need for additional, possibly expensive treatments.
You only have one smile, and it's not worth taking chances with. If you want a reliable way to straighten your teeth and correct your bite, you should talk to your dentist to see if clear aligners are a good option for you.
About the Author
Dr. Rashpal Deol is fully dedicated to making sure that the care he provides is completely tailored according to the needs of each patient. His San Ramon practice, Oak Ridge Dental, offers a full range of treatments, including clear aligners for crooked or unevenly spaced teeth. To schedule a consultation with Dr. Deol, visit his website or call (925) 735-6190.