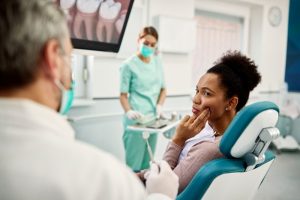 Dental emergencies can be downright shocking – the pain, price, and inconvenience are nothing to look forward to. While urgent dental situations can never be completely avoided, the best defense is a good offense! There are steps you can take to prevent dental emergencies before they even happen in the first place. Read on to learn the 5 best ways you can protect your smile from dental disasters!
#1. Act Fast!
Do you notice something off in your smile? Whether it's your teeth, gums, or other areas of the mouth, contact your dentist right away. What may be slight sensitivity can easily turn into a dental emergency if it isn't addressed soon. Unlike many other medical conditions that can heal on their own, dental problems will usually get worse with time.
#2. Keep Your Teeth Clean
Brushing and flossing are the primary steps you must take every day to protect your smile. Brush your teeth twice a day for 2 minutes each session. Pay close attention to your gumline because that's where bacteria love to hide. Additionally, floss once a day to remove pesky food and debris from between your teeth. Decay can easily form on the sides of teeth if you're not cleaning them away with floss as a part of your oral healthcare routine.
#3. Watch Your Brushing
It's not just about when you brush, but it also matters how you brush. Make sure that you're angling your brush at 45-degrees on the gumline for the most thorough cleaning. Additionally, do not spend more than 2 minutes on your smile because overbrushing can actually hurt your teeth. Lastly, switch out your brush every 3 to 4 months or as soon as you notice your bristles starting to wear.
#4. Avoid Too Much Sugar
While sudden dental injuries are common, other emergencies occur due to poor dental health over time. Sugar from sweets, treats, and desserts can weaken and damage your smile if you're not careful. Bacteria that is naturally present in your mouth interacts with sugars to create acids that eat away at your teeth. To avoid cavities and decay, limit your intake of extra sugary foods.
#5. Wear a Mouthguard
Do you play sports or engage in physical activity? Dentists see many emergencies that occur due to contact and non-contact sports. Wearing a mouthguard limits your risk of dental injury, preventing cracked, broken, or lost teeth. Additionally, wear a nightguard if you suffer from bruxism (teeth grinding). This oral appliance relieves pressure and protects your smile from extra wear and tear that can weaken it.
Ready to prevent dental emergencies? With these top 5 steps, it's easy! Remember this information to keep your smile healthy, happy, and pain-free.
About the Practice
Dr. Rashpal Deol and Dr. Hema Patel combine their extensive training and experience to offer a variety of emergency dental services. From root canal therapy to tooth extraction and more, they are ready to help San Ramon Patients. Contact them through their website or by phone at (925) 735-6190.