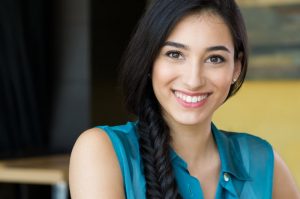 If you have a smile that suffers from a variety of imperfections like permanent discoloration, chips, cracks, gaps, and more, you may be overwhelmed when thinking of ways to improve it. Simple teeth whitening won't do the trick, so what will? Thankfully, porcelain veneers in San Ramon are specifically designed to conceal a wide-range of dental flaws all at once! Keep reading to learn about this state-of-the-art cosmetic treatment and how you could benefit from it.
What are Porcelain Veneers?
Porcelain veneers are one of the most popular cosmetic treatments because they have the ability to erase significant flaws. They are thin shells of dental porcelain that are designed to cover the front portion of each tooth to create a perfect smile. Typically, a slight amount of your dental structure must be removed to accommodate veneers, but the results are beautiful and lasting.
The process of receiving porcelain veneers will usually occur in two different appointments. During the first, your dentist in San Ramon will examine your smile and discuss your desired results. After preparing your teeth, they'll take special impressions and images of your smile to create your custom-made veneers. Then, you'll come back into the office, where your dentist will permanently place them to deliver you unmatched beauty.
What Problems Can Porcelain Veneers Fix?
Dentists recommend porcelain veneers to their patients because they can be used to routinely fix a variety of imperfections, including:
Teeth that are permanently discolored and can't be treated with whitening
Teeth that are worn down through grinding or normal wear and tear
Teeth that are broken, chipped, or cracked
Uneven, misaligned, and misshapen teeth
Slightly gapped teeth
Am I a Candidate for Porcelain Veneers?
You could benefit from porcelain veneers if you have any of the issues listed above. However, certain oral health issues must be addressed before starting treatment with porcelain veneers. That's why routine checkups and cleanings are important. Your dentist can catch and treat issues like gum disease or decay before they become worse. Once the condition of your oral health is in check, your dentist will be able to confidently recommend porcelain veneers to enhance and transform your imperfect set of teeth.
Does it sound like porcelain veneers are right for you? Your dentist can use this treatment to turn back the clock on your appearance and completely transform your set of teeth. After all, your smile is one of the first things that people notice about you! Contact your dentist to give yourself the ability to flash your pearly whites with confidence.
Meet the Dentist
Dr. Rashpal Deol is an experienced dentist who offers the latest technology to give his patients comfortable and quality dental care. He provides numerous cosmetic dentistry services in addition to porcelain veneers. He currently practices at Oak Ridge Dental, and he can be contacted through his website or by phone at (925) 735-6190.