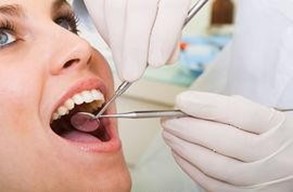 IMPORTANCE OF ORAL HEALTH AND REGULAR DENTAL HYGIENE VISITS IS MORE IMPORTANT NOW THAN EVER
THE MOUTH IS THE GATEWAY TO THE BODY. SO IT MAKES SENSE THAT GOOD OVERALL HEALTH STARTS WITH GOOD ORAL HEALTH. NEW RESEARCH INDICATES THAT ORAL HEALTH COULD BE A CRITICAL FACTOR IN SERIOUS COVID-19 COMPLICATIONS
When the American Dental Association asked dental offices to temporarily close, except for emergencies, on March 16, 2020, little was known about the relationship between oral hygiene and the severity of COVID-19 infections. Since that time, new research is showing that poor oral hygiene can directly affect how patients are able to fight off the disease.
And with guidance from CDC, ADA, State Dental Associations and other regulatory bodies, most dental offices in the United States have been able to safely open with new safety protocols and there have been rare if any reported dental office associated Covid transmissions thus far. Here is what we have been implementing in our office for our team's and your safety- https://www.oakridgedentalsanramon.com/advanced-safety-protocol-dentistry.html
A recent article published in the British Dental Journal in June 2020 (https://www.ncbi.nlm.nih.gov/pmc/articles/PMC7319209/) reflects that relationship in a very relevant and urgent way. It concludes that poor oral hygiene may be connected to serious COVID-19 complications due to high
levels of harmful oral bacteria.1 The authors explored the connection between high bacterial load in the mouth and post-viral complications, and how improving oral health may reduce the risk of complications from COVID-19.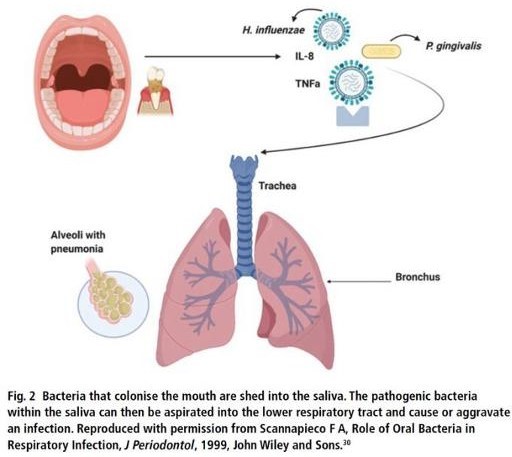 Image by British Dental Journal
One key takeaway from this article is that, with COVID-19 and other viral diseases, inadequate oral hygiene can increase the risk of inter-bacterial exchanges between the lungs and the mouth, increasing the risk of respiratory infections and potentially post-viral bacterial complications.
Good oral hygiene has been recognized as a means to prevent airway infections in patients, especially in those over the age of 70. In fact, studies show that improved oral care can significantly reduce the incidence of ventilator-associated pneumonia in ICU patients.
The other key takeaway from the article's authors is that improved oral hygiene may play a part in reducing the risk of complications. The authors write, "We recommend that oral hygiene be maintained, if not improved,
during a SARS CoV 2 infection in order to reduce the bacterial load in the
mouth and the potential r isk of a bacterial superinfection."
ALLOW US TO PARTNER WITH YOU TO IMPROVE YOUR ORAL HEALTH CALL (925) 735-6190 TO MAKE AN APPOINTMENT WITH ONE OF OUR HYGIENISTS.