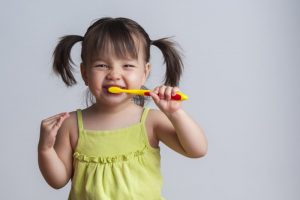 During the spread of COVID-19, no one is having a tougher time staying happy, busy, and keeping up their routine than children. While they're cooped up inside, they may resort to bad habits like constantly snacking, eating junk food, and forgetting to brush and floss their teeth. Thankfully, as a parent, you can help keep their smiles healthy during this uncertain time. Read on to learn some pro at-home tips for small smiles from your children's dentist in San Ramos.
Feed Them Mouth-Healthy Foods
The first step you can take to prevent dental problems for your child is to watch the food they're eating. It's no secret that kids love sweets, however sugar creates high risk of cavities and decay. Instead, you can bake your children treats with Xylitol—a healthy sugar substitute. That way, they can still eat delicious sweets without hurting their teeth. You should also try to have them eat the more obvious healthy foods like fruits and veggies. These act as natural toothbrushes, scrubbing away plaque and promoting saliva flow that washes away bacteria.
Facilitate Their Brushing & Flossing Habits
It's easy for your children to fall out of their brushing and flossing routine during quarantine, however this can be a great time to fine tune their dental hygiene. You should ensure that they're brushing twice a day for two minutes each session. If this is a struggle, you can play their favorite song and turn brushing into a dance party. Even better, you can brush with them, showing your son or daughter exactly how "the big kids" do it. Additionally, make sure that they're flossing their teeth once a day. This is difficult for a lot of kids, so you should floss their teeth for them if they can't yet. For kids that refuse to floss, try using pre-strung floss picks!
Switch to Water Instead of Soda
Kids simply love sugary beverages like sodas and sports drinks, but they can be harmful to teeth because they stay in contact with the smile for longer periods of time, heightening risk of decay. Instead, now is a great time to get your kids drinking water. It's not only better for their bodies, but most tap water contains fluoride—a naturally occurring mineral that helps protect teeth and prevent cavities. Plus, water helps wash away lingering food debris and bacteria in the mouth, making it a great way to actively keep their smile clean!
There's no need to let your child's oral hygiene fall by the wayside during this uncertain time. Use these easy yet effective tips to keep your children healthy and smiling.
Meet the Dentist
Dr. Rashpal Deol is an experienced dentist who offers a variety of dental services to treat patients of all ages. He understands that the spread of COVID-19 can affect daily routines, which is why he has passed along these useful tips. For any questions, he can be reached through his website or by phone at (925) 735-6190.