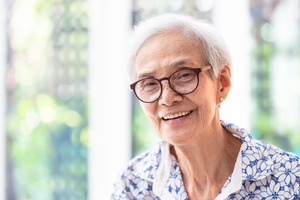 Thanks to the materials that they're made of, modern dentures tend to be very comfortable when worn. However, it's never a good idea to wear your prosthesis for too long; as tempting as the idea might be, dentures are not meant to be worn 24/7. Why is periodically taking your dentures out important? And how many hours a day can you keep them in your mouth? Your dentist is here with the answers you're looking for.
Why Shouldn't You Wear Your Dentures 24 Hours a Day?
Dentures can improve your confidence, make speaking clearly easier, and expand your diet. However, if you don't take them out of your mouth every once in a while, it could lead to the following consequences:
Problems with Your Gums: Dentures can hinder the flow of blood to your gums. As a result, the tissue covered by your dentures may become sore and inflamed. Taking your dentures out gives your gums an important opportunity to rest.
Health Issues: Throughout the day, bacteria will start to accumulate on your dentures. If you don't periodically remove your prosthesis to clean it, you may have a higher risk for respiratory issues and other health problems.
Bone Loss: Dentures put pressure on the underlying jawbone. Said pressure can accelerate the process of bone loss, which is a natural consequence of missing teeth. Eventually, bone loss could change the shape of your jaw to the point where your dentures no longer fit properly.
How Many Hours Should You Wear Your Dentures Each Day?
You shouldn't wear your dentures any longer than 16 to 18 hours a day. It's typically recommended that you take them out for at least 6 to 8 hours to give your mouth a break. Since you don't need your dentures while you're asleep, the best time to take them out is right before you go to bed.
Note that if you just had your teeth extracted, your dentist may instruct you to keep your dentures in your mouth at all times. This is to help manage bleeding. Additionally, the swelling that takes place after tooth extraction may make it difficult to put your dentures back in if they're out of your mouth for too long. After about three days, you should start transitioning to the habit of removing your dentures regularly.
Dentures can change your life for the better, but they're not meant to stay in your mouth at all times. Speak to your dentist if you have any concerns about how long you're wearing your dentures; they'll let you know if you need to make any changes to your lifestyle so that you can take better care of your mouth and your replacement teeth.
About the Author
Dr. Rashpal Deol initially practiced dentistry in India, which is where he earned his Bachelor of Dental Surgery, his Master of Dental Surgery in Periodontics and Oral Medicine, and his Doctor of Dental Science. His San Ramon practice, Oak Ridge Dental, offers customized dentures for patients who are suffering from extensive tooth loss. To schedule a consultation with Dr. Deol, visit his website or call (925) 735-6190.