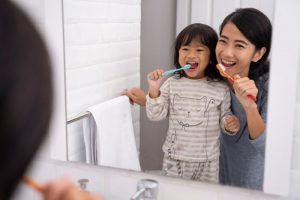 Summer is officially here, which means your kids are enjoying their freedom from school and it's now your job to facilitate their fun! However, you can also ensure that they keep their smile safe and healthy during the hotter months. With COVID-19 still a risk, there are steps you can take to help your kids enjoy a healthy smile without putting you or them in danger of the virus. Keep reading to learn some easy yet effective tips for beautiful, decay-free smiles from your children's dentist in San Ramos.
Reinforce the Best Way to Brush
During the summer months, and while social distancing is still a reality, practice the proper brushing technique with your loved ones. Teach them to brush their teeth for two minutes each session, angling their toothbrush at 45 degrees for a thorough cleaning. This should be done twice a day to successfully remove plaque and bacteria.
Make Sure Your Kids are Flossing
Brushing often gets most of the attention when it comes to dental hygiene, but flossing is just as important! If you think about it, there are 5 sides of each tooth: the front, back, top, left side, and right side. When you don't floss, you're leaving 2 sides of each tooth uncleaned and at risk of cavities from lingering plaque and food debris. Plus, flossing removes germs that can infect the gums and cause periodontitis (gum disease).
Watch Out for Snacking
Oral healthcare doesn't stop with brushing and flossing! In fact, what your kids eat can have a significant impact on the health of their smile. During this uncertain time, your kids may be home more than normal, regularly raiding your pantry for yummy treats and sweets. However, sugary snacks can increase their risk of cavities and decay. Plus, you should watch out for when they snack—eating constantly doesn't give the mouth time to recover and produce saliva, which washes away food and bacteria.
Visit Your Safe & Sanitized Dental Office
If your child needs to see the dentist for a problem, or if they're simply due for a cleaning, your dental office is clean, sanitized, safe, and ready to see you. Your dentist has always been committed to keeping their practice extremely clean, following guidelines from the CDC. However, today more than ever, they are taking advanced safety measures to keep patients and staff safe. That's why you can have peace of mind if your son or daughter ever needs to visit the dentist while COVID-19 is still a risk.
Ready to take on the summer while giving your child a healthy and thriving smile? Remember these tips and don't be afraid to contact your dentist to set an appointment!
Meet the Dentist
Dr. Rashpal Deol is experienced in treating patients of all ages, creating friendly and long-lasting relationships with children. He knows that this time is uncertain, which is why he wants to assure you that he is taking all the necessary precautions to keep everyone safe. If you have any questions or want to schedule an appointment, he can be reached through his website or by phone at (925) 735-6190.