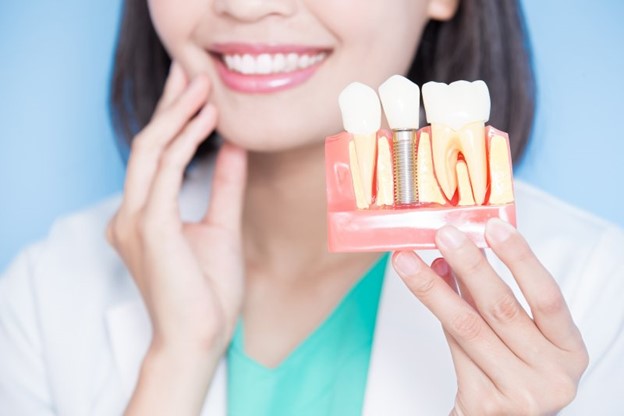 If you have missing teeth, your situation isn't hopeless! Millions of Americans struggle with tooth loss, but fortunately, solutions like dental implants can effectively restore the look, feel, and functionality of your smile by replacing those missing pearly whites. But if you're interested in receiving dental implants, you're probably wondering: "Is it going to hurt?" Keep reading to learn more about dental implants along with some tips for ensuring a smooth and painless recovery.
Will Getting Dental Implants Hurt?
Many patients feel nervous about even the most basic of dental procedures, so it's reasonable to feel a little intimidated by dental implants. But whether you're receiving a single implant or multiple, your dentist will always prioritize your comfort and well-being, and there is absolutely nothing to fear!
Although you might feel some pressure during the procedure, your dentist will numb the affected area with anesthesia, and you will not experience any pain while your implants are being placed. For patients with dental-related anxiety, sedation dentistry can also be utilized to provide a comfortable and relaxing experience. After the implantation, you might experience some mild pain and discomfort. However, most patients claim that this pain is less than something like a tooth extraction, and it usually only lasts for a day or two.
How Can I Ensure a Smooth and Pain-Free Recovery?
In fact, many people who undergo this process claim that the recovery period is not nearly as painful as they anticipated! You can expect to feel some discomfort for a week or so in the affected area as well as your chin, cheeks, and underneath your eyes. That said, there are a few things you can do to ensure a smooth and pain-free recovery:
Closely follow any instructions provided by your dentist, including taking over-the-counter pain medications like Tylenol or Advil as needed, or taking antibiotics if prescribed.
Rinse your mouth gently with warm salt water to kill germs and promote healing.
Avoid hot, spicy, hard, and crunchy foods for the first 10 days after the procedure.
Use a cold compress to help reduce facial swelling.
Even though it might be challenging, maintain good oral hygiene and brush gently near your implant sites.
Visit your dentist as instructed and don't hesitate to ask questions or seek assistance as needed.
What Are the Benefits of Getting Dental Implants?
It's important to understand what dental implants are fully capable of, as they do much more than simply replace your missing teeth. This can also help patients realize why dental implants are a very worthwhile investment that might be worth a little discomfort! Consider the following benefits:
They prevent premature jawbone deterioration.
They're natural looking and more durable than your real teeth.
They effectively restore your bite force and chewing power without imposing dietary restrictions.
They're able to provide facial support and make you appear younger.
They can last for 20+ years with proper oral hygiene and are customized exclusively for your mouth.
Dental implants are in a class of their own when it comes to replacing missing teeth. And the benefits don't stop there! Talk with your dentist if you're curious about receiving dental implants to improve your smile and way of life.
About the Practice
Oak Ridge Dental proudly serves patients and families in the San Ramon area under the leadership of Dr. Rashpal Deol and Dr. Hema Patel! Both dentists have several years of experience and expertise in a wide variety of fields and their practice is pleased to offer many available services, including dental implants! If you have any questions about dental implants or would like to schedule an appointment, please visit the practice's website or give them a call at (925) 735-6190.