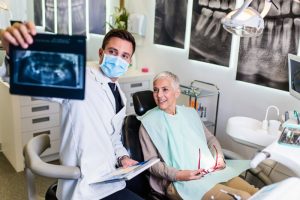 The new year bring so many new things, including a fresh set of dental insurance benefits (lucky you)! Whether you love caring for your smile, saving money, or both, there are a variety of reasons to book your next dental appointment while it's still early in the year. Read on to learn about the top 4 advantages of visiting your dentist before getting too far into 2022.
#1. Get Ahead (or Catch Up) on Your Checkups
Do you visit the dentist twice a year? This is recommended by the ADA to help you maintain good oral hygiene. However, with scheduling, work, social commitments, and so much more, it's often difficult to fit two appointments in during the same year. Thankfully, you can schedule one early on to get it out of the way. Then, just a month or two into the year, you're already halfway done with your recommended dental visits!
#2. Enjoy the Most Convenient Appointments
Have you ever been stuck with the dental appointments that are left just because you waited to book them? Instead of procrastinating, you can be rewarded by booking a visit early in the year! Have your choice of the cream of the crop appointment times like before work, during lunch, and once your off. Additionally, you can schedule your kids' appointments at times that fit with their school schedule. By doing this sooner than later, you can beat out the other parents after these popular slots.
#3. Use Your Dental Insurance
Dental insurance is something that is already paid for, however billions of dollars in benefits are wasted each year. You can meet your deductible early on by scheduling an appointment at the beginning of the year while also taking advantage of your benefits. This is also a great time to plan out all your necessary dental care so you'll know exactly what to expect when it comes to time and money spent on dentistry in 2022.
#4. Catch Dental Problems Early
The main reason to get dental checkups is to allow your dentist to catch dental issues before they become severe. Many problems cannot be felt or noticed until it's too late without the help of a professional. For example, a simple cavity can turn into a necessary root canal or even tooth extraction if you prolong visiting the dentist. Dental checkups can also be lifesaving because part of the appointment includes an oral cancer screening.
Don't wait! Take care of your smile while you have the time and book a dental appointment early in the year to enjoy all of these advantages.
Meet the Dentists
Dr. Rashpal Deol and Dr. Hema Patel combine their extensive experience and training to offer a variety of services for San Ramon patients. They provide careful and detailed checkups that include an exam, oral cancer screening, and other preventive steps. To schedule a visit, they can be reached through their website or by phone at (925) 735-6190.