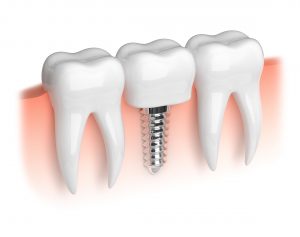 A tooth that is failing or already missing greatly affects your quality of life. Chewing and eating the foods you would normally enjoy is now difficult, and sometimes even painful, while talking with others feels embarrassing. Your compromised tooth has taken a toll on both your nutrition and self-esteem. A dental implant is an excellent solution for missing or failing teeth, and your dentist in San Ramon explains why.
A Dental Implant Looks and Feels Like a Natural Tooth
Your new tooth is designed to closely mimic your natural tooth since it replaces both the root and crown (top) of your tooth. Because dental implants look and feel natural, they also provide the same function you were used to before your tooth loss. This means you'll be eating, chewing, talking, and smiling with ease and confidence again.
Dental Implants Protect Your Oral Health
Losing a tooth is devastating in many ways including the effects it has on your oral health. When you've lost a natural root, it immediately affects your jawbone, which starts to deteriorate. This eliminates support for surrounding teeth, and also changes the appearance of your face over time.
Without a replacement tooth, your remaining teeth will begin to shift. This causes a host of problems, including an increased risk of developing gum disease or tooth decay, and misalignment of your bite, which can lead to painful issues with your jaw joint.
Replacing your tooth with a dental implant restores your smile and protects your oral health.
Dental Implants Offer Great Longevity
An implant is a highly reliable treatment with a 95% success rate. When you take good care of your implant with excellent home care that includes brushing twice a day and flossing at least once a day, your implant also offers great longevity. Combine great home care with regular checkups with your dentist, and your implant can potentially last for the rest of your life. This also makes dental implants in San Ramon the most cost effective long-term tooth replacement option.
Are you ready to learn more about dental implants? Contact your dentist to schedule a consultation today!
About Oak Ridge Dental
Dr. Rashpal Deol takes great care of his patients in San Ramon, CA by providing comprehensive dental services in a warm and caring environment. Patients enjoy the one-on-one attention and high quality dentistry they receive when they work with Dr. Deol.
If you would like to contact Dr. Deol, he can be reached online through his website or by phone at 925-735-6190.