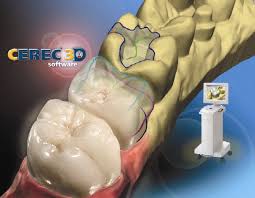 Oak Ridge Dental strives to provide personal and comfortable dental care with the most innovative advancements in dentistry. Through our mission for excellence as a dentist in San Ramon, we proudly offer same day dentistry services with the CEREC machine. CEREC is a revolutionary technology that allows us to create custom dental crowns right in our own office, so you'll have a complete restorative procedure in just one day. Using this state-of-the-art dentistry technology, you'll save time and money while having your dental crowns made in just one appointment.

Benefit from CEREC Crowns
In the past, getting a dental crown was a lengthy procedure that required multiple visits. First, your tooth would have to be prepped and molds would need to be taken. Then, those impressions would be sent to an off-site lab to be made. While you waited for your crown to be made, you would have to wear a temporary crown. Finally, you would have to come in for a second appointment to have the permanent crown attached. With CEREC technology, the hassles and headaches of traditional crowns are not just a distant memory.
Using this new technology, we prepare your tooth the same as with traditional crowns and sometimes more conservatively removing less tooth structure, but you won't need to wait for your new permanent crown to come back from the lab. And, you won't need a temporary crown. Instead, you'll have your final crown made right in our office in 1-2 hours.
To create same day crowns, we use a special CAD software to take 3D images of your tooth. We are able to customize the crown for the exact fit, function, and color. These images are then sent to our in-office milling machine, where your crown will be created from a tooth-colored block of ceramic material. In just a few short minutes, your new crown will be finished and ready to be placed.
With the new crown technology, you'll experience a higher level of convenience as you'll only need one dental visit for your restorative procedure. Not to mention, with the use of the software and 3D images, your crown will be more precise to meet your exact needs. You'll have a quality crown that looks great while restoring the function of your tooth.
This amazing machine can be used for a number of restorative and cosmetic procedures, such as crowns, bridges, veneers, inlays and on-lays. Depending on which tooth needs to be restored and special circumstances, the Dentist can choose the right material with the right indication for the tooth concerned.
Your CEREC Dentist in San Ramon
Dr Deol at Oak Ridge Dental is your dentist in San Ramon for same day crowns. We combine our exceptional dental care with cutting edge technology to deliver the most convenient and comprehensive care possible. If you're ready to say good-bye to the headaches and hassles of traditional dental crowns, call our office today at (925) 230-9176 to see if you're a candidate for CEREC crowns. We'll give you an amazing new smile in just one office visit.