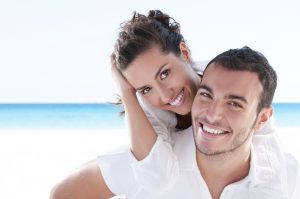 Everyday your teeth get a workout. It's no wonder then that chips, cracks, fractures and discoloration can begin to mar your smile over time. How can you restore your beautiful smile? San Ramon cosmetic dentist Dr. Deol can create a brand new smile with porcelain veneers. These sturdy coverings hide cosmetic flaws, so your smile is once again the picture of perfection.
Porcelain Veneers in San Ramon
Your smile not only makes a first impression, but it can also leave a lasting impression. Therefore, the appearance of each tooth in your smile zone is important. With porcelain veneers, San Ramon cosmetic dentist Dr. Deol designs individual veneers to correct the flaw that detracts from the appearance of a specific tooth. For example, a rotated tooth can be made to look straight, which is why veneers are often called instant orthodontics. Likewise, a tooth that is broken can be made whole and a darkened tooth is once again brilliant white.
Receiving Porcelain Veneers in San Ramon
The first step on your short journey to a new smile—porcelain veneers usually only require two conveniently scheduled appointments with your dentist in San Ramon—is a consultation with Dr. Deol. During this meeting, Dr. Deol will examine your smile and assess your overall oral health. Before beginning any cosmetic dentistry process, the health of your teeth and gums needs to be optimal. We'll take molded impressions, photographs and digital x-rays that Dr. Deol will use to guide his decisions about the size, shape and color of each veneer. He'll also want to hear what you have in mind for your new smile. This is a collaborative effort between you and your cosmetic dentist in San Ramon, so be sure to voice your opinion! Many of our patients opt to bring photos of people with smiles they admire.
The Porcelain Veneers Process
During the first appointment, Dr. Deol will prepare each tooth that will have a veneer. This involves removing a very slim layer of enamel to ensure the comfortable and attractive fit of your veneers. Once this is done, we'll take another impression of your teeth that our dental lab uses to fabricate your customized veneers. This process can take up to two weeks, so Dr. Deol will place a set of temporaries on your teeth. When your permanent porcelain veneers arrive in the office, you'll return to have the temporaries removed and your new smile cemented into place. The finished result will be a smile that is as strong as it is beautiful.
Call Your Cosmetic Dentist Today
To find out if porcelain veneers are the right cosmetic solution to improve your smile, contact Oak Ridge Dental in San Ramon, CA.