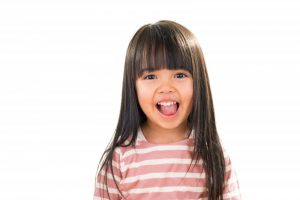 February is National Children's Dental Health Month—an effort to bring awareness to the importance of dentistry for kids. Getting your son or daughter into the habit of seeing their children's dentist in San Ramos regularly can set them up for a lifetime of healthy smiles. During this month of awareness, learn how you can best help your child care for their smile and why it's important to take them for regular dental visits.
Children's Dental Care at Home
When it comes to your child's smile, oral health all starts at home. It's important to ensure that your son or daughter is brushing and flossing every day. They should brush twice a day, for two minutes each session, and they should also floss their teeth once to remove lingering plaque and bacteria. It's a simple fact that kids can't clean their teeth as well as adults, which is why it's a good idea to help them—especially in their younger years.
Oral healthcare doesn't stop with their brushing and flossing routine. In fact, an aspect of their health that is just as important is their diet. Sugary sweets and treats put your children at a much higher risk for dental problems like tooth decay and gum disease. That's why a healthy diet will not only protect their teeth, but it will set them up to favor mouth healthy foods in the future as well.
Seeing Your Children's Dentist
One of the most significant steps you can take for the health of your child's smile is routine dental checkups and cleanings. Be sure that your son or daughter is seeing their dentist at least twice a year. These regular visits prevent and detect oral health issues before they become more severe. Dental problems can often occur without any signs or symptoms, which is one of the reasons that it's vital to maintain these biannual appointments.
During the cleaning portion of the visit, a trained dental hygienist will be able to remove plaque, tartar, and bacteria that couldn't be reached at home. This is one of the ways your dentist can help keep your kids healthy for years to come.
Dentistry Today for a Better Tomorrow
There are many reasons why oral healthcare for children is important, but none are more significant than setting them up for a positive future. Humans tend to create habits while young, sometimes without even noticing it, which is why routine dental care now can set your child up for happy and healthy smiles down the road.
Are you ready to celebrate National Children's Dental Health Month the right way? Keep these tips in mind to ensure the wellbeing of your loved ones.
Meet the Dentist
Dr. Rashpal Deol has extensive experience caring for children, and he's known for his friendly, comforting attitude. If you have any questions or want to schedule your child's appointment, he can be reached through his website or by phone at (402) 245-2243.