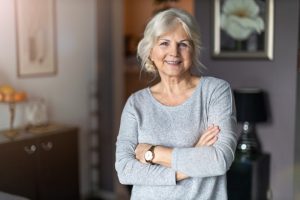 Whether you have a full or partial denture, proper maintenance is vital! You've restored the health and beauty of your smile, but it's now up to you to ensure that your dentures are properly cleaned, stored, and cared for. Thankfully, your dentist has included some pro tips when it comes to caring for dentures to make it simple! Read on to learn more about looking after your denture so you can enjoy it for years to come.
How to Clean Your Dentures!
The best step you can take to maintain your dentures is to remove and clean them after every meal. With a busy schedule, this can often be challenging, so at least rinse and brush your prosthetic once a day. Use your denture cleanser and mild dish soap or liquid hand soap to remove lingering plaque, bacteria, and food debris.
It's also vital to keep your mouth clean. If you use denture adhesive, remove it by brushing your gums and any remaining teeth with a nonabrasive toothpaste. Be sure to clean your tongue, cheeks, and the roof of your mouth to prevent infections. Using these tips, you'll keep your mouth clean and your dentures sparkling!
Handling Your Dentures
Remember to always rinse your dentures with water before putting them back in your mouth, especially if you've used cleaning solution because its ingredients can cause pain, burns, and nausea. Always use room temperature water because hotter temperatures could permanently warp your prosthesis. Your dentures are delicate so make sure to handle them with care. When cleaning, it's a good idea to place towels down on the sink and/or floor to cushion your dentures if you accidently drop them.
The Best Way to Store Your Dentures
Just like dentures can warp if placed in hot water, they can also change shape if they dry out. When not being worn, your prosthetic smile should always be kept in room temperature water or soaking solution. It may seem like a no-brainer to wrap your dentures in a paper towel, but this can be easily mistaken for trash (yikes)! Additionally, if you have pets or kids around, your dentures can easily become a toy that gets damaged. That's why you should be smart about your denture storage by keeping your prosthetic smile out of reach.
Using these steps, you can enjoy your dentures for at least 5 to 7 years (combined with regular dental visits of course). Just keep these tips in mind to get the most out of your new smile!
About the Practice
At Oak Ridge Dental, Dr. Rashpal Deol and Dr. Hema Patel work together to offer a wide range of dental services for their patients, including full, partial, and implant-retained dentures. If you have any questions or want to schedule an appointment, they can be reached through their website or by phone at (925) 735-6190.