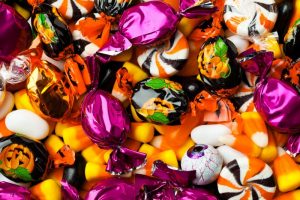 Halloween is always the best time of the year for kids with a craving for sweets. However, the decorations and costumes aren't the only things spooky during this holiday. October 30th always brings increases in tooth decay due to the uptick in candy consumption. But not all sweets are created equal! That's why your dentist has included some of the best and worst treats your children can eat to help them avoid the scary risk of cavities.
Does Good Candy Exist?
Most of the sweets passed out on Halloween contain high amounts of sugar, making them risky for your kids' oral health. However, some candies feature xylitol instead of sugar, which allows them to taste sweet without the chance of cavities. Additionally, while chocolate still contains sugar, it's by far the best candy to allow your child to eat. Chocolate is creamy, so it washes away from teeth easily, lowering your child's chance of decay. Plus, you can keep in mind that dark chocolate contains less sugar, which makes it a great treat for your little ones to enjoy on Halloween.
Halloween Candy to Avoid
Spooky season is full of sweets that will put your child at risk of cavities, including:
Sticky and Gummy Candies
Your dentist says to "Be picky if it's sticky!" Gummy worms, taffy, and other items stick to the teeth, staying contact with the smile for longer periods of time. This allows sugars to turn into acids and eat away at the smile. Plus, these treats are more difficult to remove for a child with brushing and flossing.
Hard Candy
Jolly ranchers, suckers, lollipops, and other Halloween classics sure are tasty, but they can cause damage to your kid's smile. The sugar from these items gets in the saliva while they're being consumed, automatically coating all the teeth with sugar. When bacteria in the mouth combine with sugars, they create acids that cause cavities.
Sour Candy
Does your loved one enjoy jawbreakers, sour patch kids, and other sour sweets? While they are delicious, their high level of acidity can weaken enamel and cause decay. When enamel is weakened, your child's teeth will be more susceptible to cavities.
Caramel Apples
Don't let the fact that these fall staples contain fruit fool you! The sticky caramel that coats the apples increase the chance of cavities. Plus, the combination of tough caramel with crunchy apples can even damage your child's smile when eating them.
Halloween is a time of fun, so don't let the risk of cavities get in your child's way! Now that you know some of the best and worst candies, you can help keep them healthy and smiling.
Meet the Dentist
Dr. Rashpal Deol is a friendly and caring dentist in San Ramon who has the training and experience to offer a variety of services for patients of all ages. He loves helping younger patients enjoy happy, healthy sets of teeth. If you have any questions, he can be reached through his website or by phone at (925) 735-6190.