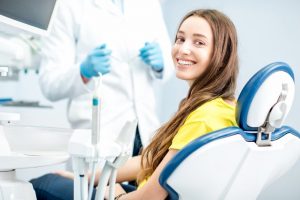 If you're like most, there is probably something about your smile that you want to change. Cosmetic imperfections can take away from your overall beauty, but they can also negatively impact your confidence. However, cosmetic dentistry allows patients to turn back time, erasing numerous flaws while achieving the smiles of their dreams. Read on to learn more about the most common cosmetic dental flaws and what your dentist can do to help!
#1. Stained or Discolored Teeth
As you grow older, your teeth go through natural wear and tear from eating, speaking, and smiling. However, routinely drinking dark liquids like wine or regularly using tobacco products can cause yellowing and discoloration in your smile.
Your dentist offers professional teeth whitening as a way to erase discoloration. They use a professional grade whitening gel that reaches beneath the surface of your enamel, removing tough stains that over-the-counter products couldn't touch.
#2. Cracked or Broken Teeth
If you have a tooth that's cracked, broken, or misshapen, it can take away from the appearance of the rest of your smile. Plus, it may make it harder to chew, and it can even affect your bite in the future, leading to additional problems.
However, your dentist can provide you with cosmetic bonding or dental crowns to correct this problem. Cosmetic bonding uses tooth-colored resin to repair areas of the smile, and it can be sculpted to match the rest of your enamel. For serious damage in a tooth, a dental crown can cover the entire visible portion, strengthening and protecting it for the future.
#3. Crooked Teeth
A crooked smile can not only impact your appearance, but it also makes it more difficult for you to remove plaque and food debris in crowded places. Thankfully, your dentist can use Invisalign to give you a straight set of teeth without the hassle or discomfort of braces. If you have just one crooked or misaligned tooth, veneers can be used. This option won't correct your alignment, but it will conceal the crookedness to give you the look of a beautifully straight set of teeth. Plus, porcelain veneers take just two appointments to complete!
#4. Chipped or Gapped Teeth
Chipped or gapped teeth can impact your self-esteem, making it more difficult to smile, even when you want to! But there are various cosmetic dentistry options that can make these issues disappear! Porcelain veneers are thin shells of dental porcelain that can correct the size and shape of your teeth, perfect for significantly chipped or gapped parts of your smile. Cosmetic bonding can erase slight gaps and small chips for a beautiful grin.
Now that you know more about cosmetic dentistry, what are you waiting for? Contact your dentist to see if any of these options are right for you!
Meet the Dentist
Dr. Rashpal Deol is an experienced dentist who understands the importance of having a healthy AND attractive smile. That's why he offers various cosmetic dentistry services for a wide range of cases. He can be reached through his website or by phone at (925) 735-6190 if you have any questions.